There are so many ways to get your kids interested in science, and it doesn't need to be a chore. Sometimes, finding the perfect way to do something can be fun too! Here are just a few things you could try: 
Create Your Own Science Experiments of Your Own.
Science is all around us – not just in nature and animals, but also in our homes too! There are many household items that can be used to create experiments, such as baking soda and colored vinegar.
Try creating an experiment with your children where you mix these two ingredients together and see what happens. This creates a fun environment for experimenting and encourages kids to learn more about science by using their senses (touching, seeing, tasting, etc.). While there is scientific reasoning behind this activity (mixing those ingredients releases carbon dioxide, which makes bubbles), it's still primarily just a lot of fun for kids.
Creating your own experiments is a great way to spend time with kids as it'll not only teach them but also keep them engaged and entertained.
You don't need to be a scientist or even know much about science at all to create science experiments with your kids.
Try creating an experiment like testing sugar levels in different solutions of water using food coloring. There are pictures to help you out as well as detailed instructions you can refer to during the experiment.
Find a few kid-friendly recipes online that are science-related! Experiment with different ingredients until you find what works best. Keep track of what you used in each recipe so that when it's time to do the experiment again, you'll know exactly how to do it right away.  For example, did you use baking soda or not? This is helpful because maybe the first time around, the results were thanks to incorrect amounts of ingredients, but the second time it could be completely different!
Not all science experiments have to be explosions or creating weird concoctions.
In fact, many times, the best ones are the simplest ones. With a little bit of creativity, you and your kids can come up with some great experiments that will teach them a lot about science in a fun way!
If you're looking for ideas, there are plenty of websites online dedicated to helping parents and kids create science experiments together. All you need is a little imagination and some basic supplies that you probably already have lying around your house.
Teach Your Children to Ask Questions.
One of the best things about science is that there are always new discoveries to be made. Asking questions is how scientists learn and test their theories, so it's important to teach your children to ask questions too. Not only will this help them in their own personal understanding of science, but it'll also help them develop critical thinking skills.
Asking questions is a great way to get kids interested in science because it encourages them to think about why things happen the way they do. It can also lead to more questions that will keep them engaged in the topic. Science is all about exploring the unknown, so teaching your kids to ask questions is a great way to help them start down that path!
Watch a Documentary Together.
Science documentaries unearth facts and information about how the world works. They are often very engaging and educational – perfect for getting kids interested in science! Plus, you could find yourself learning things about science too! 
There are many types of documentaries available on TV, Netflix, or even YouTube these days, so try watching one that interests both of you. This will create an opportunity to discuss what you've just watched together, which can be both fun and informative!
Look Up Fun Facts About Space on the Internet Together.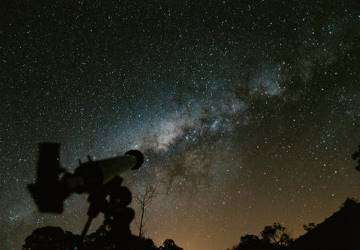 Kids these days are always interested in learning new things, so why not introduce them to the wonders of space? By sitting down together and reading fun facts about space, you'll be able to ignite their curiosity and encourage their love for science. Not only that, but you'll also get to learn new things yourself!
Kids are fascinated by space. Whether you're looking up facts about the moon, planets, stars, or galaxies – there's not much that doesn't grab a child's imagination these days! So why not sit down together and find out what you can do? You'll be surprised at all the cool things there are to learn about our universe.
Finding fun facts about space can be an engaging experience for both you and your child.
You could share this activity by simply sitting next to each other on the sofa, looking up fun facts that no one knows yet.
You can start by learning some facts about the planets, the moon, and more. By reading these facts, your child will gain a little knowledge of just how vast our universe really is. Then, maybe try to watch a movie like  The Martian that has science fiction elements involved too!
If you're looking for a great gift to give your child that will spark their imagination and get them excited about science, look no further! Telescopes are a great way for children to explore the stars and planets by getting a closer look at them. Plus, telescopes make a perfect introductory gift for kids who are interested in astronomy or simply want to take a walk on the wild side!
A telescope is an ideal gift because it allows both parents and kids to appreciate the beauty of the universe together while taking in all of its epicness.
Learn About Dinosaurs Together with Your Children.
There is so much information about dinosaurs – not just factual information but fantastic stories too. Why not read them to your children before bedtime, whenever they ask questions, or even make it into an adventure game where you both go on voyages of discovery through their bedroom (or living room if you don't have a big enough space)? 
Kids love learning new things, and there are so many facts to be discovered about dinosaurs. You could even get them involved in some of the activities, such as looking for fossils or making models out of clay. This is a great educational activity that any kid would enjoy!
Dinosaurs are popular and can make a great discussion topic too. Kids love finding out about how they lived and what kind of animals they were, as well as why they became extinct millions of years ago. You could read books about these creatures together or talk about which dinosaurs you would like to see if you could travel back in time!
Encourage Them to Read Books About Science.
Science books are a great way to learn more about the world around us. Not only do they teach kids about science, but they also help to improve reading skills.
There are many different types of science books available that cater to different ages and interests. Why not go on a trip to your local library or bookstore and take a look at what's available? You could find books about everything from space to dinosaurs to chemistry!
Not only will your child learn about science by reading these books, but they'll also be able to gain new vocabulary words and improve their reading skills. This is an important skill that will help them throughout their schooling years.
Take a Field Trip to a Museum or Planetarium.
Field trips are a great way for kids to learn more about the world around them. Why not visit a science museum or planetarium? There, they can explore exhibits and learn about all kinds of different scientific topics.
Some museums have special programs and activities designed for kids, which makes learning even more fun. Plus, it's a great opportunity to spend time with your children and see the world through their eyes!
There are many different types of science museums, so you're sure to find one near you. If there isn't one, why not consider starting one yourself? It could be a great project that the whole family can get involved in!
Museums usually have exhibits with games, activities, and information for kids. They can often be very interactive and engaging, which makes learning more fun. Planetariums offer similar experiences but with the added bonus of seeing the stars and planets up close!
Both of these places are perfect for getting kids interested in science as they can learn more about it in a hands-on way. Plus, they're likely to have a lot of fun while doing it too!
Make Sure they Have Access to all Supplies.
Kids love to be creative, and making models and crafts is a great way for them to express themselves. If your child has a particular interest, such as dinosaurs or space, make sure you have all the supplies they need to create models or crafts related to that topic.
This could include everything from clay to paint to modeling materials. Not only will this keep them occupied for hours on end, but it will also help them learn more about their interests. Plus, it's always a lot of fun!
You can find all sorts of different craft supplies at your local store or online. Why not take a look at what's available and see what would be the best fit for your child?
There are many different ways for kids to learn about science, and these are just a few of them. The most important thing is to get them interested in the subject and let them explore it in their own way. This will help them learn more about the world around them and have a lot of fun doing it!
Get them Involved With Local STEM Projects in Their Community. 
STEM stands for Science, Technology, Engineering, and Maths. Finding ways to get kids involved in these subjects is very important as they'll learn the foundations of science, which will help them later on in life.
Why not find out if there's a local STEM project you could become involved with?
There are many different types of projects that take place throughout the year – from building robots to creating computer games and everything in between! This kind of activity can really inspire your child and encourage them to see how fun science can be!
If there isn't anything like this available near you, why not start one yourself? It's always better to lead by example rather than wait for others to do it first!
Go on a Nature Walk and Name All of the Various Kinds of Trees, Flowers, and Animals they Come Across. 
One great way for kids to learn about science is by going on nature walks. This gives them the opportunity to explore the world around them and learn about all kinds of different plants and animals.
If you go on a nature walk with your children, make sure to take a notepad and pen with you. This will help them identify all of the different types of trees, flowers, and animals they find along the way. It's also a good idea to bring a camera so they can capture all of their findings!
Not only will this be an educational experience for your children, but it will also be fun and exciting for them. They'll get to see things that they normally wouldn't see in their everyday lives, and they'll also get to learn about them in greater detail!
Conclusion.
Now that you know how to encourage your child to love science more than ever before go ahead and start today! You'll all be glad you did. Not only will it be fun for them, but they'll also learn so much as well!
Plus, who knows? They may even grow up to become scientists themselves one day. 
Brenda Tillman is a Cognitive Behavioral Therapy Practitioner, a dedicated mom blogger, and a life enthusiast. She also has completed courses on Parenting Skills, Learning, and Education. She is married and is the proud mother of a boy and two girls. She loves being with her family and pets. She has been blogging for over five years now and enjoys sharing her thoughts on parenting, relationships, health & fitness as well as other topics that come up in life.