Do you dream of having a four-legged friend to come home to? Well, before you run out and adopt the first dog that comes your way, it's essential to do your research and find the right breed for your lifestyle. Each dog has its unique personality and needs, so it's vital to pick the breed that will fit into your daily routine.
For example, if you work long hours, a high-energy herding breed might not be the best fit. On the other hand, if you have plenty of time to spend with your pup, a lazy bulldog could be perfect. Keep reading for a breakdown of some of the most popular dog breeds and what to consider before bringing one home.
Understand your lifestyle.
Another key factor is how much time you have to care for a dog. Dogs require lots of attention from their owners, from daily walks and exercise to training and grooming. If you travel a lot or spend a lot of time at work, you might want to consider a breed that doesn't require as much attention.
First, consider your day-to-day activities. Do you work long hours? Do you have young children who will need lots of attention? Will you be gone for hours at a time? If you work long hours, getting a high-energy breed that needs lots of exercise and attention might not make sense. You might also want to consider a breed that doesn't need many exercises, such as a bulldog or basset hound.
On the other hand, if you have a lot of time to spend with your dog and will provide them with lots of exercise and attention, you might want to consider a more active breed, such as a husky or beagle. These are just some examples of the types of lifestyle considerations you might want to think about for yourself and your family.
Size and space.
If you live in an apartment or condo, you might want to stick with a smaller breed that doesn't need much room to exercise. However, if you have a yard and plenty of space for your furry friend to run around, consider a larger breed like a German shepherd or retriever.
In general, large breeds need a lot of space to stretch their legs and exert energy. While they may be friendly and docile at home, they can become destructive if left alone for too long. Their size also makes it important to train them early so that they learn how to behave around people and other animals. On the other hand, small breeds tend to be very active indoors, require less exercise, and are often great with kids and other pets.
Behavior and personality.
Just like people, all dogs have unique personalities and temperaments. Some breeds are more aggressive than others and may not be the best fit for every owner. Some breeds are known to be more "high-strung" or easily agitated, such as terriers or sighthounds. If you have young children, it might be best to avoid these breeds for your family's safety.
You'll also want to consider your dog's overall temperament. Do you need a very obedient dog? Or are you okay with some barking and digging? Think about the types of behaviors that might drive you crazy, then find a breed that matches your needs.
If you're looking for an obedient dog that will follow your commands and listen to you, it might be best to look into herding or sporting breeds. On the other hand, if you don't mind spending lots of time training your dog, you might want to consider a breed known for being very intelligent. These include hounds or terriers.
Be prepared for lots of shedding and drooling.
Breeds that shed a lot will leave behind lots of hair in your house. If you don't like cleaning up hairballs, you might want to consider a low-shedding breed like poodles or bichon fries. However, keep in mind that grooming these types of breeds is still very important for their health.
Lastly, if you live with someone allergic to dogs, you might want to consult them before choosing a breed. While it's not always the case, some breeds are known to cause more allergies than others. Some dog breeds are hypo-allergenic, producing fewer allergens than other dogs.
If you're looking for a hypo-allergenic breed, beagles are generally thought to be the best options. Other hypo-allergenic breeds include poodles, bichon fries, and basset hounds.
However, keep in mind that hypo-allergenic breeds may still cause an allergic reaction in some people. If you think you or your family member is sensitive to pets, be sure to consult with your doctor before bringing home a dog.
Choose an age-appropriate breed.
Not all breeds are ready to be a family pet at puppy age. Some dogs mature into an adult personality around three years of age, and some can take up to five or six years. If you want to adopt a puppy, talk with your veterinarian about the appropriate age for bringing one home.
Also, be aware that some breeds have a high "fear period" – meaning they can be uneasy or shy around strangers, loud noises, and new situations for about a year.
With that in mind, you may want to avoid getting a very small or very large breed during this period. For example, you probably don't want to buy a Great Dane puppy if this breed tends to be skittish around people.
Medical issues.
Just like with people, some dog breeds are more prone to certain medical conditions. These conditions can be expensive to treat and may require specific dietary restrictions.
If you're looking for a new pet, it's best to research their common medical conditions before bringing them home. For example, toy breeds are prone to hypoglycemia and require a special diet as a result. In contrast, large breed dogs can often develop hip dysplasia by the age of four. Make sure you're prepared to help your pet live a long and healthy life with proper medical care!
Do your research on the breed of your choice.
Many people choose a dog simply by their appearance or whim, but this isn't always the best idea. Instead, you should spend time researching the breeds that interest you before bringing one home.
If possible, take some time to visit local shelters or breed rescues and talk to the dogs. There, you can find out more about the breeds you're interested in by reading up on their care and personality.
If you're looking to purchase a dog instead of adopting, it's essential to do your research on the breed as well.
Trainability.
Some dogs are easier to train than others. When choosing a dog, you should consider how much effort it will take to train them. If you want a dog that's known for being easy to train, beagles are generally considered the best choice.
If you're looking for a breed that's easier to house train, you should consider Basenjis. Dogs belonging to the hound family can also be easy to train to depend on a bell to be taken outside.
Commitment.
Like all pets, dogs need your time and attention to live a happy life. When choosing a dog breed, you should consider how much time and effort you can put into caring for them.
If you're only looking to bring home a dog when it's convenient for you, small breeds are often the best choice. Medium-sized dogs require moderate amounts of exercise and can adapt to many different lifestyles.
Large breeds can be hard to care for if you're not able to commit to long walks every day. However, these dogs make great family pets and can be a wonderful addition to your home.
No matter what breed of dog you select, you should consider an active lifestyle and consider spending a lot of time outdoors. This will make them healthier and happier pets in the long run!
Do you have kids and other pets?
Some breeds are better with children than others. Before bringing home a puppy, you should consider its personality and breed.
Please also see your pediatrician and discuss what breeds of dogs are safest for children, including factors to consider about their safety around the family dog.
Dogs are social animals, so it's best to consider whether having any other pets in your home is a possibility before choosing one. Some breeds are more social than others, so make sure your dog can coexist with any other pets you might have!
For example, many breeds of terriers aren't recommended for families with cats because they're known for hunting small mammals.
Conclusion.
Before bringing a dog home, you should consider whether or not you can provide them with the care they need. This includes spending time with them every day, finding a dog breed that's suited for your lifestyle, and preparing to commit to caring for them for their whole lives!
Now that we've gone through how to choose the right dog breed for your lifestyle, you should be well on your way to bringing home a new furry friend. If you're still unsure which breeds might be best suited for your needs, consider asking us in the comments! We'd love to help make your search easier and answer any questions about our own pet-owner experiences.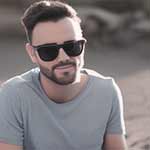 Dive into the insights of Matthew Mansour, a seasoned life coach, fitness guru, and health mentor. With a portfolio boasting over 800 thought-provoking articles, Matthew is passionate about unraveling the intricate layers of the human psyche. His reading choices? Books that shed light on our unique human journey, helping him (and his readers) harness the power of the mind, transforming challenges into stepping stones.
Matthew proudly wears his badge as a self-help aficionado. His mantra? There's always room to grow, learn, and be inspired. He thrives on gleaning wisdom from pioneers, turning their experiences into valuable lessons for all.
Always on the pulse of emerging trends, Matthew immerses himself in groundbreaking courses and research centered around life coaching and holistic health. Eager to impart his knowledge, he's here to guide anyone keen on enhancing their life journey.
Beyond his professional persona, Matthew is a devoted animal lover, a proud New Jersey resident, and a doting husband and father. Dive into his self-improvement blog and let Matthew guide you towards a life filled with purpose and passion!
Reviewed By: Joanna Perez and Marcella Raskin
Edited By: Lenny Terra
Fact Checked By: Gabrielle J. Smith
Photos Taken or Curated By: Matthew Mansour