Kids are always looking for the next best thing. It doesn't matter if it's a toy, an electronic device, or something else.
That is why people are constantly scrambling to find what will be "the" gift this year for their children. If you have a child who loves hoverboards, then you might be struggling with picking out the right one because there are so many different options out there!
In this blog post, we will talk about 4 of the best hoverboards on the market that kids love. Also, we will go on with more information about what parents need to know before purchasing a hoverboard for their children, like advantages, risks, and safety tips.
This post may contain affiliate links. If you make a purchase through these links, I may earn a small commission at no extra cost to you. Thank you for your support!
The 4 Best Hoverboards.
Hover-1 Helix.
The Hover-One Helix is the perfect hoverboard for those who want something with a sleek design. The overall look of this board is very modern, so it would appeal to most teenagers or kids around that age range as well!. It is recommended for kids who are 15 and up, but younger kids can ride it as well. This board can support riders up to 264 lbs and has speeds of up to 9 miles/hour. It charges in about 2.5 hours and can be ridden for up to 9 miles on a full charge. While this is not one of the cheapest hoverboards on our list, it's worth every penny because of its sleek design, app management, water resistance, Bluetooth speakers, and many other features.
Segway Ninebot S series.
The Segway Ninebot S-Series Hoverboard is an excellent option for those who want a hoverboard that is lightweight and easy to carry. This board can support riders up to 220 lbs so it would work well for most children as well! This hoverboard is recommended for ages 16 and up. The Segway Ninebot S-Series Hoverboard has a maximum speed of up to 10 miles/hour. This board comes with an Intelligent App Management System that allows users to control speeds, check battery levels, anti-theft function, and more!
Tomoloo Hoverboard.
The TOMOLOO Hoverboard is an excellent option for those who want a board to support riders under 265 lbs. This hoverboard has a max speed of up to 10 miles/Hour. The TOMOLOO Hoverboard comes with LED lights and Bluetooth speakers so riders can play their favorite music while they ride around. It also has an app that allows riders to control the speed, intensity, sensitivity, battery, and led colors! This board also has an anti-theft function in case it is lost or stolen.
Gyroshoes Hoverboard.
The Gyroshoes Hoverboard is a fantastic option for younger kids as it comes with a kart-style seat! The maximum weight this board supports is 220 lbs which means it would work well for most children! This hoverboard also has a max speed of up to 9.5 Miles/Hour. Riders can ride in a sitting or standing position for this board, and it comes with Bluetooth speakers to play their favorite music. It has an app that allows riders to control the speed and led colors!
What is a hoverboard, and how does it work?
Hoverboards are one of the coolest things that kids can get their hands on. They look like mini Segways, and they let your child control where it goes with just slight body movements. They are electric-powered and can be used indoors or outdoors.
Hoverboards work on a simple concept. They use two wheels side by side, and each wheel has it's own motor powering it. When a rider steps on the board, it causes one wheel to rotate. This causes the board to move in that direction. When you want it to turn right, your left foot will go forward and vice versa.
Hoverboards are powered by internal rechargeable batteries. Most of them take around three hours to charge and have a run time of about an hour or so per charge.
Why do kids love Hoverboards?
Kids love hoverboards because they give kids a chance to have "freedom" in an electric device. The hoverboard is not attached to anything, so kids can move around however they want it. Plus, they are fun to ride on and can reach speeds of around ten miles per hour! They are the perfect gift for any child who likes being active outdoors.
How to choose the right hoverboard for your child?
There are various types and styles that you can choose from when buying your child the perfect hoverboard. Some things to consider are:
Speed.
Most hoverboards have a max speed of around ten miles per hour. For children, you should choose a board you can adjust the speed.
Rider weight.
Some of these boards can support riders up to 220 lbs while others only 115 lbs or less, making them better for small children than larger adults!
Price range.
Hoverboards can range in price from $100 all the way up to $2000 or more! You must consider your budget and ensure that you get an affordable option for yourself.
App.
Some hoverboards come with their own app, which allows riders to control speed, battery life, the color of lights on the board, etc. Having this feature makes it easier for parents to make sure their kids are riding safely.
Charging time.
Ensure that your child's hoverboard battery can be fully charged within three hours to avoid any issues.
Construction.
You want something durable! Construction is as important as your child's age group when it comes to choosing which type you should get them for their birthday or holiday gift this year!
If they are rough on their toys, you want to get something that can withstand their strength. That being said, it is always wise to invest in a hoverboard with good construction so they are less likely to break when ridden hard!
Safety.
One of the main reasons hoverboards are so popular is that they can help kids learn how to balance on two wheels! You want something that has good stability, especially when your child is just learning. This will teach them about balancing and get their confidence up for riding other objects like bikes or scooters in the future!
Colors.
Kids love bright colors and flashy designs on things they own! You can pick out the perfect color for your child's personality or favorite sports team.
These factors should help you narrow down which type will be best suited for your little one this year! Remember, not all kids are created equal for age ranges, and safety precautions need to be taken accordingly when choosing these gifts.
What are the Advantages of Kid's Hoverboard?
There are many benefits to owning a hoverboard. They give kids the freedom to move around almost anywhere they go!
Freedom of movement.
Hoverboards offer children unprecedented freedom, which is a fantastic feeling for them once they start riding one. It doesn't matter if their legs get tired because all they need to do is step forward with another foot and ride like that until they're ready to stop again! This gives kids a chance to be more independent without having too much responsibility or needing someone else's help.
Self-confidence.
Hoverboards are a fantastic confidence booster for kids. Once they learn how to ride one, you'll see them more willing to try new activities because of the amount of fun that this electric device has brought into their lives!
They will feel safer knowing that they can handle any other challenge or obstacle in life because they have conquered something as hard as learning how to balance on a hoverboard.
Plus, it's always great when children work towards mastering things by themselves instead of depending on others all the time! The independence boosts self-esteem and makes them happy with what they can accomplish without help from anyone else.
Fun activities.
One of the best things about buying your child a hoverboard this year is that there are so many fun things you can do together as well! Since these devices are self-balancing, you can ride them together and go on a "date" to the park or anywhere else that your child wants. It's not often that kids get to spend time with their parents like this anymore!
Exercise.
Kids need to be active for their bodies and brains to function correctly. Hoverboards are one of those great ways they can stay healthy while having fun at the same time as well. Not only will it help build up muscles in their legs from all of the movement required when riding these hoverboard toys, but it also helps stimulate brain cells because they have so much fun doing something different than what they usually do every day!
What is the risk of using a Hoverboard?
While hoverboards are fun and can offer benefits to kids, there are also risks associated with them:
Burns.
The hoverboard's lithium-ion battery is one of the most dangerous parts of it. This can be scalding hot or even combust during use, leading to severe burns if kids aren't careful enough when they touch this part! Even though manufacturers take many safety precautions, this is still one of the main risks children may face when using these devices.
Stuck/lost.
These devices require balance because they only work on flat surfaces where the wheels will contact something solid underneath them. If your kid tries riding these objects somewhere that doesn't have anything firm beneath it (like grass), then the device will be stuck, and they will have to find someone who can help them get unstuck. Plus, if your child is too young, then it might be tough for them to figure out how to take the hoverboard apart to transport it back home.
Injury.
Learning to ride a hoverboard is not always easy! Kids can get hurt or fall off of these devices very quickly, especially if they are trying them for the first time. Parents need to be extra careful when purchasing one of these products and find out which ones have better balance features so that their kids don't take too many risks while learning how to use them correctly.
Hoverboards also require riders to wear protective gear, so injuries from falls on the ground are not as bad. These items will help prevent fractures in bones like wrists or ankles, which are common when falling off of these devices.
Hoverboards are also known for being quite accident-prone in terms of falling over and getting hurt while riding them! Kids love to go fast on these things so they can make it up hills or off-ramps, which could lead to a nasty fall if they aren't careful enough with their movements. This risk will be even greater if others are around who might bump into your child's board! Make sure you supervise kids at all times when they're on their boards.
How to keep your child safe on a Hoverboard?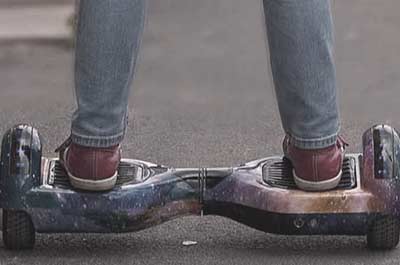 While hoverboards might seem like an excellent idea for kids, some risks are involved with these toys. You should make sure that you take extra precautions to ensure their safety when they're on one of these devices!
Supervise.
The best way for you to make sure that your child will be safe when using one of these boards is by supervising them at all times. You never know what might happen with a hoverboard, especially since it requires balance to operate correctly!
Kids can lose their balance very quickly, and they could end up hurting themselves if you're not watching over them constantly while they are on this device.
Just because kids love riding around on things like hoverboards, skateboards or bicycles doesn't mean that you shouldn't protect them from any accidents which might occur due to lack of supervision!
Balance.
One of the most important parts of owning a hoverboard toy is making sure that it has proper balance features!
A good hoverboard will have the ability to change its speed depending on how much pressure you're putting on it with your feet.
This way, driving becomes more manageable for kids, and they won't lose their balance as quickly while trying to slow down or stop!
Be careful of others & objects.
Hoverboards are particularly dangerous because they tend to fall over if the rider isn't careful enough!
Ensure your child is aware of their surroundings and that others will not bump into them, as this could cause harm.
Also, make sure there aren't any obstacles or objects on the ground which might stop the wheels from turning correctly while riding around on these devices.
Wear protective gear.
Kids should also wear protective gear when using these devices! This includes helmets, pads for the elbows and knees, wrist guards, strong shoes that won't come off easily while riding (like cleats or mountain bike shoes), and knee socks to protect their legs from scrapes/cuts on the ground if they fall over, a helmet, etc.
Make sure your child is wearing comfortable clothes, too, since it's going to be hard for them to ride in something like jeans, making balancing more difficult.
Make sure they aren't riding it on unsafe surfaces.
Another one of the most important things you need to make kids aware of about hoverboards is that they can only ride them on flat surfaces where there's something to lean on.
Kids should not ride their boards in places without sound footing because they might fall over and get hurt very easily!
Always make your child aware that these things are meant to ride on flat surfaces. Otherwise, it could lead to a lot of injuries if they don't listen carefully enough.
Things to consider when buying a hoverboard.
Kids under ten years old should not be riding on hoverboards.
For children over ten years old, choose one designed specifically for younger people: Kids' hoverboards tend to be smaller and have better balance features, which means your child will not struggle as much when learning how to ride on one properly. It's always best to start small before moving up into bigger models!
Make sure the battery life can last for a long time: You want to choose one that will be able to power your child's board through the entire afternoon without running out of juice. This way, they will not have any interruptions during their playtime and instead get plenty of fun riding in before having to recharge it or swap batteries!
Look at warranty policies: If you buy from an online store like Amazon, you might find ones with more extended warranties than usual. If there are issues with the battery life (or other parts), customers can send them back and receive replacements quickly. Make sure this is allowed by checking the website first before buying anything!
Hoverboards are one of the most popular toys to get for kids who love gadgets. These devices can be fun and exciting but also dangerous if not used correctly or with supervision! Make sure your child is never left alone while riding on their board, and always make them wear protective gear to prevent injury from falls when learning how to use these things correctly.
Choose a model made out of durable materials: This will ensure you won't have any issues with malfunctioning parts like wheels, which could pose a danger to children in terms of getting hurt when misusing them. Always read reviews online before purchasing hoverboard toys so that you know what other customers say about specific models before taking the plunge yourself!
There are some places where hoverboards aren't allowed to be used. This includes in many airports or on public transportation. If your child is caught riding their hoverboard in areas where they are not allowed, then they may get fined for breaking the rules! Make sure that you know what kind of laws might prohibit kids from using these devices before taking them out and about with you while going anywhere during a family vacation!
Conclusion.
Hoverboards are a lot of fun to play with, and they can be great for kids who enjoy gadgets.
However, you want to ensure that your child always uses one safely so they don't get hurt by accident! Make them aware of the risks of using these devices before allowing them out on their own or unsupervised so it doesn't cause any problems!
Hoverboards should only be used on flat surfaces where there's something sturdy to lean against if needed. Kids also need to wear protective equipment like helmets and pads at all times when riding since falls could happen quickly otherwise.
We hope you've found the information helpful and that we'll see you again soon. Remember to leave a comment below with your thoughts on our post, good or bad!
Meet Brenda Tillman: your go-to expert in Cognitive Behavioral Therapy! Not only is she a seasoned therapist, but she's also a passionate mom blogger who never misses a beat. Dive deep into her insightful blogs, backed by her extensive coursework in Parenting Skills, Learning, and Education. Brenda's heartwarming family – a son, two daughters, and their adorable pets – often take center stage in her writings. From parenting hacks and relationship tips to health & fitness nuggets, Brenda has been enlightening her readers for over half a decade. Stick around, and you're bound to discover gems from a mom who wears many hats with grace!
Reviewed By: Joanna Perez and Marcella Raskin
Edited By: Lenny Terra
Fact Checked By: Gabrielle J. Smith
Photos Taken or Curated By: Matthew Mansour