If you are thinking about adding a pet to your family, a parrot may be the perfect addition. Parrots are fascinating creatures that are highly intelligent and can provide hours of entertainment.
They come in various shapes and sizes, so there is sure to be one that fits your lifestyle and personality. However, before you add a parrot to your home, be sure to do your research so you know what to expect.
Parrots require a lot of attention and care, but they can be well worth the effort. So if you're up for the challenge, consider bringing home a parrot today!
Stop Your Parrot From Biting, Train Tricks, Speech & More [ad]
Parrots are brilliant and can be taught to do tricks.
Parrots are members of the psittacine family of birds, including macaws and cockatoos. There are more than 300 different parrot species, with sizes ranging from just eight inches to over three feet tall. Parrots eat a variety of foods, including seeds, nuts, fruits, and vegetables. They also like to eat insects, which can be a great source of protein for your pet.
The intelligence of parrots makes them very entertaining pets. Parrots are capable of solving puzzles, learning tricks, and even playing hide-and-seek with you! Some species are better at these activities than others, but every parrot is intelligent in its own way.
To keep your pet entertained, try hiding treats around the house for it to find! You can also teach your parrot to do simple tricks like turning in circles or waving "bye-bye".
Once you train your pet, it will interact with you and follow commands.
When parrots are hand-fed as babies, they bond with the person who feeds them. This can make it easier to train your pet than if you had adopted an older parrot. Once your bird gets used to you, it will be able to follow simple commands like "step up" or "turn around". You can also teach your parrot how to do tricks, like "give me five" or "play dead".
The best way to train your pet is by using positive reinforcement, so be sure to reward it with plenty of praise and treats when it does well.
If you teach your parrot how to say "hello", it may still greet you by whistling or saying your name when you come home. Parrots love to interact with you and make noise, so don't be surprised if your pet wakes you up in the morning by squawking!
They require a lot of attention and interaction.
Parrots are social creatures, so they need to interact with their owners regularly. In the wild, parrots live in flocks and interact with each other constantly. In captivity, they will expect you to be their flock. If you spend a lot of time away from home, you might want to get two parrots. That way, one can keep the other entertained while you're gone!
Parrots are naturally social creatures, so they need plenty of attention from their owners. If you leave for work every day, don't expect your pet to sit around waiting for you all day–it will get bored and lonely.
While parrots need to spend time alone, they still need plenty of social interaction with their humans. Make sure to chat with your pet often and give it frequent attention throughout the day. If you're not around, another family member or friend can provide that much-needed socialization for your pet.
Parrots are known for their loud, distinctive voices.
Parrots are naturally noisy creatures; if you've ever heard the sound of parrots in the wild, you know that they can be deafening! The loudness of a parrot's voice varies from species to species, though.
While some types of parrots are louder than others, most parrots can be pretty noisy. Your pet will learn to mimic the sounds it hears every day, so expect to hear your parrot squawking along with the morning news!
While parrots need to be in an environment that allows them to vocalize, make sure they aren't too loud for your own comfort. Loud noises may scare a young parrot, and you will think that its natural instinct is to be afraid. When you let your parrot vocalize, make sure the noise doesn't startle anyone in the house and stress out your pet.
Parrots can mimic human speech.
Parrots are one of the only birds that can reproduce human speech. They can mimic just about any sound they hear, which can be quite entertaining at first. However, your pet might start learning bad words if you aren't careful! Don't be surprised if your parrot starts yelling things like "Shut up" or "Get off my lawn".
While some parrots can mimic speech, others cannot. Some parrot species may be able to make a few sounds or words, but they will never be able to speak like a human. If you want a bird that can talk, it's best to choose an African Grey or Cockatoo.
At least once a week, you should bathe your pet.
Parrots are very clean animals, so they will try to keep themselves clean at all times. However, there will always be messy moments, especially when they get wet after a rainstorm! Remember to wash your parrot to keep it clean and healthy.
Some parrots are happy to bathe in a sink or birdbath, but others refuse to get wet. Don't be surprised if your parrot runs and hides every time you try to clean it.
Parrots that live in hot areas don't need baths very often. Parrots that live in cool climates should be bathed at least once a week to keep them healthy and clean. If your parrot refuses to bathe, try placing a shallow dish of water in its cage.
Parrots are cuddly.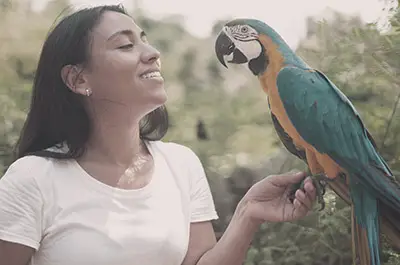 Parrots have a very unique, fluffy feather style.
Except for budgies and cockatiels, all parrot species have a unique, fluffy feather structure. If you own a large parrot or macaw, expect some major cuddling! Your pet will want to snuggle with you every day.
If you own a small parrot, it may not require a lot of cuddling. Parrots like to rub their heads on people they like, which can be quite adorable if you ask me!
Budgies and cockatiels do not have the fluffy parrot feather style. They are very different types of birds; make sure you understand the differences between a parrot and a budgie before you buy one.
Parrots are very messy!
Parrots naturally go to the bathroom every 15-30 minutes. There are lots of cleanups involved!
While parrots are very clean animals, they go to the bathroom every half hour or so. You'll have a lot of cleaning up to do if you own a large parrot; make sure to give your pet some time out of its cage every day to let it stretch its wings and relieve itself.
If you own a large parrot, it will produce an enormous amount of poop every day. Expect to do some significant scooping and cleaning if you want to keep your house clean.
Stop Your Parrot From Biting, Train Tricks, Speech & More [ad]
Parrots are expensive to take care of.
Parrots eat a lot of different types of foods. You might need to start buying some things online if your local pet store doesn't sell the correct kind of food, and you need to make sure they are getting the right types of nutrients. Parrots need to eat fruit, vegetables, pellets, and seeds to stay healthy. You might not be able to find all of these different types of foods at your local pet store.
Some parrots like to eat only one type of food. If your pet is on a special diet, make sure that you don't feed it anything else unless the vet says it's okay, no matter how much it begs!
Your pet will also need to visit the vet at least once a year for an annual checkup. Many parrots are carriers of salmonella, so you need to keep them at a safe distance from the family, primarily if anyone in your household uses a wheelchair, crutches, or a cane.
If you can afford the vet bills and the constant supply of food your pet needs to stay healthy, then a parrot might be a good pet for you.
If you don't have the money to care for your pet, consider adopting a budgie or cockatiel. These animals are less expensive to take care of, and they don't need as much attention as a parrot.
Parrots need lots and lots of toys!
Make sure you buy your pet toys that are large enough to hold. Cockatoos and other small parrots can easily break their toys; make sure you know what kind of bird you own before buying it a toy!
Cockatoos need lots of different kinds of toys in their cage. They are very intelligent birds, so they need something to stimulate their minds while inside the cage. If your parrot doesn't have enough toys to keep it entertained, it could become very depressed!
Budgies and other small parrots don't need much in their cage. They are very happy to sit on their owner's shoulder, so they don't need toys in the cage. However, if you own a budgie, make sure you don't leave it alone for too long. Budgies are very social animals; they need to be around people daily. Leaving your pet alone for too long might make it very unhappy and unhealthy!
Parrots are very intelligent animals, and they need to be constantly entertained. A bored parrot might start to pull out its feathers or act aggressively; they love to chew. Make sure to buy your pet lots of safe toys for chewing.
Large parrots like amazons and cockatoos need to be mentally stimulated every day. If they are not, they will become very aggressive or depressed. For this reason, you should buy your parrot lots of toys that it can play with by itself or with you.
You will also need to buy a variety of perches and swings for your pet. Some parrots like to chew on wood, so be sure they always have something to keep them busy!
Different types of parrot species need different toys. For example, Amazon parrots enjoy playing with bells and mirrors, while most other kinds of parrots need to chew on wood. Make sure you teach your pet what toys are okay to play with by showing them how the toys work!
Conclusion
Parrots are fun pets to have; however, they are expensive to take care of. Make sure you understand your pet's specific needs before you bring it home.
Thanks for reading this article. I hope that helps! Have a nice day.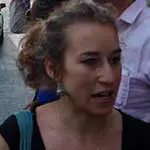 Meet Marcella Raskin: Founder, Editor-in-Chief, and a Maven in Human Potential
Dive into the rich tapestry of Marcella Raskin's life and you'll discover more than just an editor-in-chief. At the core, Marcella is a passionate writer, deeply committed to unlocking the boundless human potential. Armed with expertise in Cognitive Behavioral Therapy, Life Purpose Coaching, and Group Life Coaching, she's carved a niche in helping both women and men unearth their true selves through the art of writing. Every article she pens is a gateway, inviting readers to shift mindsets and embrace transformation, even when change seems impossible.
Beyond her literary pursuits, Marcella is a fitness enthusiast, underpinned by her background in Exercise Physiology. And when she's not empowering others or delving into the science of movement, she's reveling in the joys of motherhood, raising two incredible girls, and sharing life's moments with her beloved spouse.
Trust Marcella's words; they're backed by expertise, passion, and a journey full of learning and growth.
Reviewed By: Joanna Perez and Brenda Tillman
Edited By: Lenny Terra
Fact Checked By: Matthew Mansour
Photos Taken or Curated By: Matthew Mansour