If you're over 40, you know that your makeup routine needs to change a bit as you age. Luckily, you can do plenty of things to make yourself look younger and more put together. Here are the 10 best makeup tips for women over 40.+
Use a primer.
Did you know that makeup can help your skin look younger and healthier? For example, the right primer will fill in your pores and smooth out any wrinkles or dry patches so that your foundation goes on more smoothly. Apply a generous amount of primer where it's needed most, such as around the forehead and eyes. 
There are tons of great primers available, so choose one that suits your skin type. You can find drugstore brands or high-end products. Just read the label carefully and see what the primer is formulated for. For example, if you have sensitive skin, look for a hypoallergenic primer that's gentle on the skin.
Use a primer every day, and you'll see a huge difference in your skin after several weeks. After that, most women can go without it during the week and put it on again only on special occasions.
Don't be afraid of blush.
If you're over 40, you probably think that blush is only for younger women. However, it can make you look more mature by adding color to your face. The key is to find the right shade of blush.
There are many different shades available, so there's one out there for everyone. For example, if you have light skin, you'll want to choose a pink-based blush. On the other hand, if you have darker skin, opt for a red- or orange-based shade. Whatever your skin tone is, there's a blush that will work for you.
Use blush daily around the cheekbones and temples to look younger and more vibrant. Be sure to blend it well.
Switch up your lipstick and gloss.
Do you always wear the same shade of red lipstick? If so, that's a big mistake! When you're older, and your skin changes color slightly, everything on your face needs to change too. Instead of wearing the same red, try an orange-based color. This will brighten your face and make you look more youthful.
When it comes to color choices, the sky is the limit. Redheads can opt for a caramel tone or a pink-based shade of lipstick instead. Women with brown hair should try a purple-based hue, while blondes should choose warm hues of red or orange. Whatever color you choose, make sure it complements your skin tone and brings out the color in your face.
Don't forget about gloss, either! Just like with lipstick, not all glosses are created equal. When you're over 40, lighter colors that reflect light will give the illusion of fullness to your lips and hydrate them simultaneously. When it comes to color, you'll want to avoid anything too dark, or that has a brown base.
Choose lighter lipstick colors and glosses with hydrating formulas for natural-looking lips that will make you appear younger.
Eyeliner is your friend.
If you're over 40, chances are your eyelids have started to droop a bit. You might feel self-conscious about this and skip eyeliner altogether. However, the correct liner can lift up your eyes and look very flattering on you.
To use it properly:
Start by highlighting the inside of your eye's tear duct.
Line the upper lash line with a dark pencil eyeliner, drawing it close to your lashes.
Do the same with the lower lashline if you want a sexy cat-eye look.
When it comes time to apply eyeshadow, use colors that complement your liner color.
For example, the black liner goes well with purple or bronze shades. There are many different shades of liner that you can experiment with, so don't be afraid to try out bold colors like blue or green if it suits your fancy.
Use eyeliner on the inner rim of the eye every day to keep your eyes looking fresh and youthful.
Mascara matters!
It's easy to take your mascara for granted, but it's one of the most important makeup products you should consider when you're over 40. As you age, your lashes are thin and can fall out easily. Mascara is the perfect way to thicken and lengthen them for a more youthful appearance.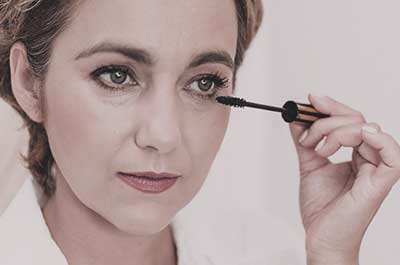 Don't use harsh formulas with this product, though, as they can irritate your eyes and cause serious damage. Instead, opt for a gentle formula that's made for daily wear.
Alternate between two mascaras: one for your lower lashes and another for your upper lashes. This will prevent clumping and give you the best look possible.
Overly-done eyes can make you look older than 40. Try switching to a more natural mascara routine if you feel like your natural beauty is being smothered by too much makeup.
High-end mascaras are great because they provide volume and length without clumping or looking overly done up. Just be sure that it's not too dark or black because that can call attention to the fact that you're trying too hard.
Choose a lighter shade of mascara, like mauve or pink, to brighten up your eyes and make you look more youthful.
Eye shadow isn't just for teenagers.
You might think that eye shadow is something you should stop wearing when you reach middle age, but this isn't the case at all. The right type of eye shadow can make you look younger and more vibrant when paired with a smokey eye.
When you're choosing colors to apply, stick with lighter hues that are soft and neutral. You can even select a shimmery white if it suits your fancy.
Don't use too much powder, as that can make you look older and more tired than you really are. Use light dusting across the entire lid for a healthy, youthful glow.
Choose soft colors that are less harsh for eyes that look young and fresh.
Concealer is key.
If you're over 40, chances are you've started to notice some fine lines and wrinkles on your face. Concealers can help camouflage these flaws, making you look younger in an instant.
When using concealer, choose a color that's one or two shades lighter than your skin tone. Pat it with your ring finger all over the face to create a flawless appearance that can mask any imperfections.
It's important to remember that concealer will not work the same on everyone. Some people might need to use two or three different colors to create a flawless complexion, while others can get away with using a concealer that's the same color as their actual skin.
For example, if you have dark circles under the eyes, opt for a concealer that's two or three shades lighter than your skin tone. This will cover the circles and create an even skin tone.
Choose a concealer that's one or two shades lighter than your skin tone to create a more youthful appearance.
Moisturize, moisturize and moisturize some more.
If you're looking for a surefire way to make yourself look younger when you are over 40, it's by taking care of your skin and moisturizing it every single day.
Anti-aging creams may not give you the kind of results that you want, but a good moisturizer will keep your face hydrated and glowing.
There are many different types of moisturizers to choose from as well, so don't be afraid to experiment until you find the one that's right for your skin type.
Remember that too much of a good thing can be bad, so don't go overboard with moisturizing.
If you're using too many products on your face, it can lead to clogged pores and breakouts, making you look older.
Keep your moisturizer simple and stick with one that's gentle enough for everyday use.
Be sure to exfoliate.
Over time, dead skin cells build up on your face and make it look dull. You can combat this by using a good exfoliating scrub two to three times per week.
You can apply your exfoliating scrub using a gentle circular motion for a minute or two. Once again, make sure that you're not going overboard with the scrubbing because this will only make your face red and blotchy.
Always remove your makeup before bed.
One of the most important things to remember when you reach middle age is that you can no longer get by without washing your face before going to bed.
Clogged pores are bad news, which is why it's essential to make sure that all of your makeup is entirely off before you drift off to sleep.
Makeup wipes are a quick and easy way to make sure that you're not clogging your pores at night, and they're much more gentle than regular cleansers.
After you remove your makeup, make sure to use a deep cleanser to get any dirt and oil off your face.
If you don't wash away all of the dirt, clogged pores can lead to blackheads and pimples, making you look much older. Wash your face with a deep cleanser every single night to avoid breakouts and clogged pores.
Conclusion.
As you get older, it becomes more important to look after your skin to not start showing signs of aging. Taking care of your skin is one of the most important things you can do for yourself, and it makes a big difference.
At the same time, remember to moisturize and use a good concealer to cover any blemishes. It's important to remember that all women can benefit from these great tips, even if you're not over 40.
As always, thanks for reading, and make sure to leave a comment!
Meet Brenda Tillman: your go-to expert in Cognitive Behavioral Therapy! Not only is she a seasoned therapist, but she's also a passionate mom blogger who never misses a beat. Dive deep into her insightful blogs, backed by her extensive coursework in Parenting Skills, Learning, and Education. Brenda's heartwarming family – a son, two daughters, and their adorable pets – often take center stage in her writings. From parenting hacks and relationship tips to health & fitness nuggets, Brenda has been enlightening her readers for over half a decade. Stick around, and you're bound to discover gems from a mom who wears many hats with grace!
Reviewed By: Joanna Perez and Marcella Raskin
Edited By: Lenny Terra
Fact Checked By: Gabrielle J. Smith
Photos Taken or Curated By: Matthew Mansour