Hey, beauties! Let's get real about something we all love—makeup. Specifically, let's talk eyes: the windows to your soul and, let's be honest, the focal point of your face.
Eye makeup can make or break your look. Today, we're diving into the most fabulous, unmissable elements of eye makeup: eye shadows, liners, and mascaras. Get ready to be wowed and learn a thing or two!
Eye Shadow: The Color Palette of Your Soul.
Eyeshadows are like the spices in a recipe—essential and varied. You wouldn't make a soup with just one spice, would you? Mix and match shades to express your unique personality and elevate your look.
Finding Your Go-To Palette
Let's start with the basics. A good palette can give you everything from an everyday look to a dramatic smoky eye. Take your skin tone and eye color into consideration when selecting a palette. A neutral palette works wonders for day-to-day wear.
Texture Matters
Creams, powders, or gels—texture makes a difference. Cream eyeshadows are perfect for a long-lasting effect, powders offer great blendability, and gels give a bold finish. Try layering different textures for a multidimensional look.
Application Techniques
Believe it or not, the way you apply your eyeshadow can significantly change your look. Here are some popular techniques to try:
Cut-crease
Halo eye
Smoky eye
Ombre
The Underdog: Eye Primer
An often-overlooked step, eye primer sets the stage for your eyeshadow. It helps to keep your eyeshadow in place, avoids creasing, and makes the colors pop. Trust me, once you start using a primer, you'll never go back.
Liners: Precision and Drama.
Liners help define your eyes, adding depth and dimension. They're the finishing touch that can subtly or dramatically alter your appearance.
Classic Pencil Liner
These are your everyday workhorses. Great for tightlining, pencil liners are easy to use and perfect for creating a smudged, smoky look.
Gel and Liquid Liners
These liners are all about precision. If you want a crisp cat-eye or graphic shapes, go for these. Just make sure you have a steady hand or a good angle brush to get that flawless line.
Colors and Styles
Black isn't your only option. Get adventurous with blues, greens, or even whites for a trendy, eye-catching look. Here are a few styles to consider:
Winged liner
Double flick
Graphic liner
Tightline
Liner Longevity
Want your liner to last all day? Setting it with eyeshadow of the same color can boost its longevity. This simple trick also softens the liner for a more natural look.
Mascara: The Final Flourish.
Mascara is like the cherry on top. It lifts, lengthens, and volumizes your lashes, making your eyes look bigger and brighter.
The Right Wand for the Job
Mascara wands come in various shapes and sizes. The wand type can affect how your lashes turn out. Thin wands are great for definition, while chunky wands add volume.
Color Pop
Mascara isn't just about black and brown. For special occasions or when you're feeling extra adventurous, try colored mascara. Blues, purples, and greens can enhance your eye color and add a fun twist to your look.
Waterproof vs. Regular
Each type has its merits. Waterproof is long-lasting but can be tough to remove, potentially damaging your lashes. Regular mascara is easier on the eyes but may require touch-ups.
The Best Combo: Liner + Shadow + Mascara.
Getting these three elements to work together is the ultimate makeup goal. Coordinating the colors and styles across your eye shadow, liner, and mascara can create a cohesive and stunning look.
Subtle Elegance
For a more understated look, pair neutral eyeshadows with brown liner and mascara. It's perfect for daytime wear or professional settings.
Bold and Beautiful
Feeling fearless? Go for vibrant eyeshadow shades, a striking liner, and volumizing mascara. This combo will definitely make heads turn.
Timeless Classic
You can't go wrong with a smoky eye, black liner, and lash-defining mascara. It's a look that has stood the test of time for a reason.
High Impact, Low Effort
For those days when you're short on time, a single shade of eyeshadow, a quick line of eyeliner, and a coat of mascara can still make you look polished and put together.
Must-Have Tools.
A great eye makeup look isn't just about the products but also about the tools you use to apply them.
Brushes
Different brushes serve various purposes. You'll need at least these three:
Flat shader brush
Blending brush
Pencil brush
Eyelash Curler
An eyelash curler can give your lashes the lift they need before you apply mascara. Trust me, it's a game-changer.
Makeup Remover
Invest in a good makeup remover that's gentle on your eyes but effective in taking off even the most stubborn of products.
To Splurge or to Save?
Not all products are created equal. Knowing when to splurge and when to save can make a significant impact on your makeup routine.
High-End Wonders
Certain items, like eyeshadow palettes and quality eyeliners, can be worth the investment. They usually have better pigment and staying power.
Budget Beauties
On the other hand, some drugstore mascaras can give high-end ones a run for their money. Always check reviews and perhaps grab a sample before committing to a full-sized product.
Quick Tips and Tricks.
These are the little things that make a big difference.
When in doubt, blend some more.
Use a white liner on your waterline to make your eyes look bigger.
Set your liner with eyeshadow for longevity.
Experiment with colors to find what complements your eye color best.
Conclusion.
Eye makeup is more than just colors and products; it's an art form. Finding the right shades, textures, and tools can take your look from ordinary to extraordinary. Whether you're a makeup novice or a seasoned pro, I hope you've found something useful in this deep dive into the world of eye shadows, liners, and mascaras. Remember, your eyes are a canvas—so go ahead and create your masterpiece!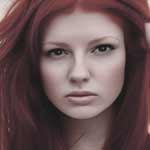 Anna West is a writer, blogger, and social media enthusiast. She has a passion for writing and enjoys sharing her thoughts and ideas with others. A California girl at heart, Anna loves spending time outdoors and exploring new places. When she's not writing, you can find her spending time with her son and friends, or taking her dog for a walk.