There's something about spending time outdoors that just feels good, especially when you can do it as a family. Whether you're trekking through the forest or simply taking a walk around the block, getting outside and enjoying nature can be a fun and rewarding experience. Here are some tips to help you connect with nature as a family.
Plan a family nature walk.
If possible, choose a location that provides the whole family with opportunities for outdoor play. Pack everyone's favorite outdoor toys (balls, Frisbees, hiking sticks), and make sure to wear sunscreen and comfortable walking shoes!
If you're walking in the woods or somewhere else where running around is unsafe, consider bringing along some ropes or jump ropes so kids can stay active while staying safe.
Take frequent breaks to rest and rehydrate, especially for little ones. Playing outdoors is fun, but it can also be tiring! Be sure everyone stays hydrated by bringing along plenty of water. And don't forget to take regular breaks to let kids run around or relax on a nearby log.
Call it a "camp-out" at home.
Whether you live in the suburbs or struggle to find time for outdoor play, there's no reason your family can't still enjoy the great outdoors. Consider inviting friends over for a backyard camp-out complete with marshmallows and campfire stories!
Camping in the backyard is one of our favorite family activities because it lets us play together in nature without having to run around outside. And because we only have to travel a few steps from our tent to the house, it's easy enough to make sure everyone stays safe.
Kids love the idea of camping but may not like the idea of leaving their comfort zone (and their toys)
Consider a camping trip if you don't have an outdoor space or can't get out of the house.
Luckily, there are lots of parks and campsites around where you can connect with nature and learn outdoor skills like camping, fishing, and hiking. Check out the National Park Service website for more information on places to camp near you!
Get a bird feeder and go on a backyard bird-watching excursion.
Not only is bird-watching a great way to get outside, but it's also a fantastic opportunity for kids to learn about nature. To get started, buy a bird feeder at a local store and make a plan to go out a couple of times every week. You can invite friends over for an afternoon of watching the birds fly in.
We like making a big deal about bird-watching and talking about how we can't wait to see what kinds of birds we'll find that day. It makes it more fun for everyone and helps build anticipation of going outside every day!
Plus, if we cannot spot any birds, we just tell our kids that they were hiding and promise to try again next time.
If you're afraid of attracting unwanted visitors, such as squirrels or mice, consider setting up a bird feeder in your yard without the accompanying birdseed. This way, you can watch the birds without attracting any other wildlife – just be sure to bring a camera to snap a few photos of your favorite visitors!
Get the kids excited about nature, but ensure they know what to expect.
For birds of prey (such as hawks or owls), consider printing out some pictures of the birds and using them as flashcards. Then encourage your little ones to try to find these birds in your yard during the bird-watching excursion.
You may also want to do some research online or visit your local library to find out which critters live in your area. In particular, you should try to learn about the insects and snakes that live in your area since these animals can be terrifying for kids.
Plant a garden together.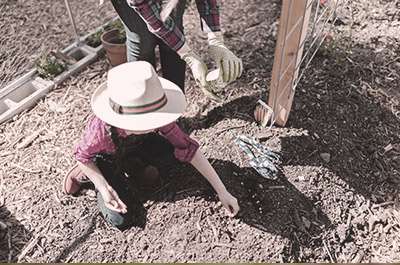 Planting a garden is a great way to get outside, learn about how plants grow, and help the planet. Consider planting some mint (or other herbs) in a pot inside your house to get started. Then you and your kids will be able to enjoy fresh mint leaves all year long!
For a full-size garden, try to choose an area that gets at least six hours of sun every day or plant vegetables in containers. And don't forget always to use non-GMO seeds!
Kids love getting their hands dirty, and they can sometimes be surprisingly helpful when it comes to gardening. If your kids want to help out, try having them water the plants and watch for bugs.
After a few months, you may even be able to harvest your veggies!
Why not start a nature journal?
The great thing about starting a nature journal is that it can be whatever you want it to be. Whether you want to make detailed drawings of the insects in your garden, write down all the birds you see every day, or collect pinecones and leaves to press, the only limit is your imagination.
Note that a nature journal doesn't have to be a printed book with pictures and pages – it can simply be an ongoing list of things you see in nature. The great thing about this list is that it's easy to bring on an outdoor excursion, making it perfect for a nature journal.
Maybe you'll even be able to build your own backyard naturalist library by starting a bookshelf of favorite nature books to read together.
Take pictures of the natural world around you.
Nothing captures nature better than a photograph, and your kids will love being able to share their favorite moments from outside. Plus, the process of taking and developing a picture (or printing out digital photos) is fun for kids.
So consider setting up a camera on a tripod and encouraging your children to take a picture of whatever they find interesting. Then, let them have creative control over how the photos are framed and printed.
If you're outside near a body of water, consider trying out some time-lapse photography.
You can keep an ongoing photo journal of nature, too. Even if you don't want to take photographs of the surrounding world, having a camera on hand during outdoor excursions is a great way to capture memorable images and teach your kids the importance of photographing their experiences.
You can visit a local zoo or aquarium to see other types of wildlife.
While not everyone has the opportunity to travel outside of their country to see wildlife, there are plenty of ways to experience animals locally. You can go on a safari in the zoo, attend an aquarium, or even download a mobile app for virtual safaris.
Choose an animal you and your kids are interested in, and try to make a daily excursion to learn more about that specific species. You can Google interesting facts, watch videos on YouTube, and even print out images from the internet to put on your walls.
If you're interested in going further, consider volunteering at a wildlife center or sanctuary to learn even more about the lives of the animals you're interested in.
As a family, start a rock and fossil collection.
Rock and fossil collections can involve anything from sifting through the dirt for interesting rocks to taking a hike and looking for fossils.
Start by making your own small, portable collection box from a shoebox. Then, go on a hike and see what you can find. You may be surprised by the number of fossils you can turn up – not to mention the incredible variety of rocks you'll uncover!
If your kids want to keep their rock and fossil collections, consider creating a display case or a stamp collection book where they can store and organize their findings.
If you're near a beach, consider collecting seashells as a family. Different types of seashells reveal interesting information about the surrounding environment. For example, when you look at how they're shaped and their color, you can determine whether they're from a tropical or temperate region. You can even find out things like what the typical water temperature is by how many spirals are on the shell, how old they are, what type of prey they typically eat, and more.
You can also use seashells to create exciting artwork or experiment with them in your food.
Collecting seashells is a great way for kids, especially young kids, to learn about the natural world. It's a wonderful way for them to be creative and to explore their surroundings in a hands-on way.
Visit botanical gardens.
Botanical gardens are the perfect places to learn about plants.
You can go on hikes and look at flowers, make paper with leaves, or even create a garden of your own. Kids can play and learn simultaneously, and if you go on a guided tour, there's always the possibility of learning something new.
Botanical gardens are an incredible way to see rare and interesting plants, learn about horticulture, or even find your favorite flowers. You can also get involved by joining a community garden, where you plant your own flowers and produce.
Whether you visit a botanical garden in your area or create one in your backyard, it's an activity that the whole family will enjoy, and you'll walk away learning something new about nature.
Create an indoor nature center.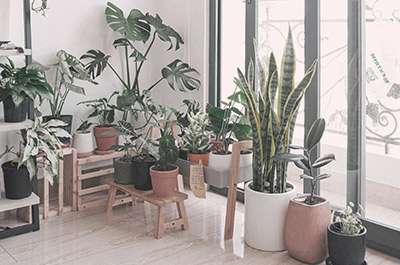 If the weather is inclement or you're sick of being inside, there are ways to create a miniature version of nature in your home.
You can create a mini-greenhouse, an indoor garden with seeds, or even a terrarium using succulents. Your kids can decorate their indoor nature centers with all sorts of materials, like rocks, leaves, and twigs. They'll also love helping take care of the plants and seeing what grows.
The best part about an indoor nature center is that it gives kids something fun to do in the cold winter months, and it introduces them to a whole new group of plants and animals.
You can also experiment with indoor gardening, which is a great way to teach kids about how plants grow.
Conclusion.
These activities are sure to inspire some great family memories. So what are you waiting for? Get outdoors today and enjoy some family fun in the great outdoors!
And don't be surprised if your children start asking to go on family nature walks or visit the park more often!
Please feel free to contact me with any concerns or questions!
Brenda Tillman is a Cognitive Behavioral Therapy Practitioner, a dedicated mom blogger, and a life enthusiast. She also has completed courses on Parenting Skills, Learning, and Education. She is married and is the proud mother of a boy and two girls. She loves being with her family and pets. She has been blogging for over five years now and enjoys sharing her thoughts on parenting, relationships, health & fitness as well as other topics that come up in life.